Despite the headline, don't hold your breath waiting for material from me. I have to make over twenty volumes of fiction pressready before Christmas... But this scribble while testing a new pen that came in the post some time ago, on the same day as an ink whose colour I liked, was scanned for use as an avatar at
KBoards
. I'm also conducting lightfastness tests of the Ambre de Birmanie and Herbin's Gris Nuage (much, much nicer than Noodler's Lexington Gray or watered Noodler's Bulletproof Black) and will report here in about five months: after a month in my window the two J. Herbin inks, anyway selected for prior reports of their lightfastness as well as for their colour, look good to go.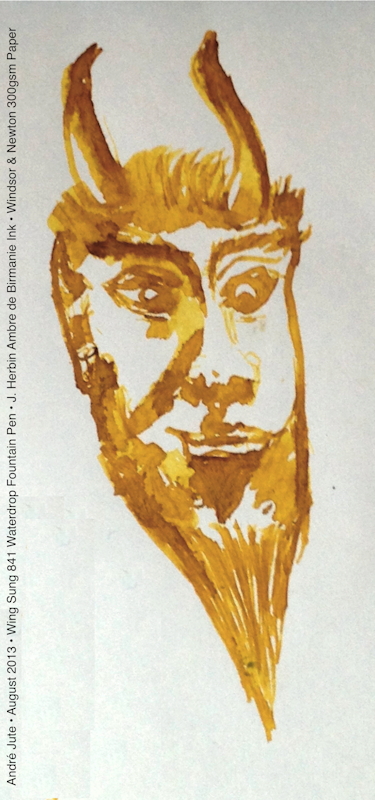 Life is a bad comedy by a celestial scriptwriter with horns
Illustration copyright © by Andre Jute. August 2013
Wing Sung 841 Waterdrop Fountain Pen, J Herbin Ambre de Birmanie Ink, Winsor & Newton 300g paper.