I've always mixed oils on the canvas, and that's how I started with watercolors,mixing them on the paper, if at all. Of course, I can't be bothered to make an exact rendition -- even with a camera I always try for an angle or a crop that is different and interesting, so why should I do with art materials what a camera can do better? Instead I try for an impression, or sometimes just for what I think the scene would look like through rose-colored glasses. My part of Ireland isn't really soaked in sunshine like Province or the Costa del X, but there are many saturated greens all the same, and yellow stone walls. Of course, the river is brownish, not bright blue, but a little wishful thinking never comes amiss. The whole thing took less than ten minutes, standing up, in my little tin watercolor pochade box.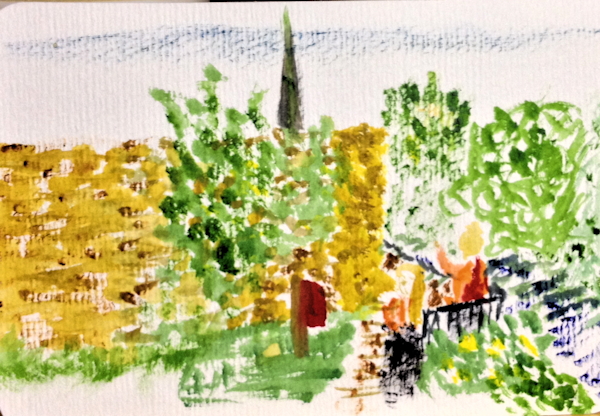 Andre Jute 2013. The Saturated Footpath. Watercolour on 230gr Hahnemuhle rough paper, 6x4in
As a sketch in its own right, I like it well enough to show to make a point. As a pochade, a study for an oil painting of any substantial size, it is a long way from enough. One would probably need extensive pencil studies of at least the figures and the layout. But I made it as sketch in its own right for the pure enjoyment of doing it, without ulterior motives.